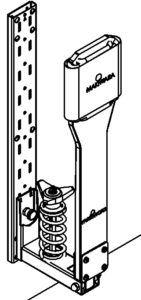 The Mechanical and Wooden OKINAWA Model is the top version of this makiwara:  steel support, wooden fists board, cotton rope.
Overall sizes: height:  75cm,  depth: 27cm.
The mechanism varies the pushing force with a maneuvering handwheel (graduated scale from 20 to 60 kg).
The wooden board contributes to cushion the blow. The makiwara can be positioned in height to the desired extent, fixing it to the slots on the media. At the same support you can assemble the kicks table.